Lanakila Multi-Purpose Senior Center
The Lanakila Multi-Purpose Senior Center (LMPSC) is open Monday through Friday from 7:30 a.m. to 3:00 p.m., on Saturday from 8:30 a.m. to 12:00 p.m., and except holidays.
Center members can come to the center if they are registered for a class, club activity, or special event or have made an appointment with LMPSC Staff. Please CALL (808) 847-1322 and ask to speak with Lanakila staff for more information and to find out what COVID-19 health & safety procedures you will be REQUIRED to follow.
The Lanakila Multi-Purpose Senior Center (LMPSC) in Kalihi is the largest senior center in the state, serving nearly 1,500 seniors. With the center's motto being "We Play, We Learn, We Serve," the facility offers kūpuna 60 years and older a place for recreation, education, and social interaction.
It offers seven ethnic clubs, provides over 30 classes and hosts many special events. Healthy activities for seniors involve exercise classes and health screenings. Scheduled seminars to keep our kūpuna safe include topics ranging from pedestrian safety to securing personal finances.
Activities offered at Lanakila Multi-Purpose Senior include:

Cultural clubs
Arts and crafts
Dance classes
Exercise classes
Music classes
Other special interest classes
Continuing education
Health promotion
Social service assistance
Community service projects
The Kalihi center's target population resides in the area from Fort Shafter to Ward Avenue, but is also open to those who live outside LMPSC's defined population area when there are no comparable services in that community.

---
Kupuna Online Classes
Lanakila Multi-Purpose Senior Center offers multiple online classes to Center Members only during this difficult time. All classes are held online via Zoom and are FREE! Please contact Susie Chun Oakland at
suzanne.oakland@catholiccharitieshawaii.org
or Riva Torno at (808) 847-1322 or
riva.torno@catholiccharitieshawaii.org
to receive more information.
Become a Member
Thinking about becoming a member? Membership to Lanakila Multi-Purpose Senior Center is available for free to Individuals who are 60 years or older. Call our membership specialist at (808) 847-1322 for a membership application. After your application has be submitted and processed, you will have access to center activities throughout the year.
March Class Schedule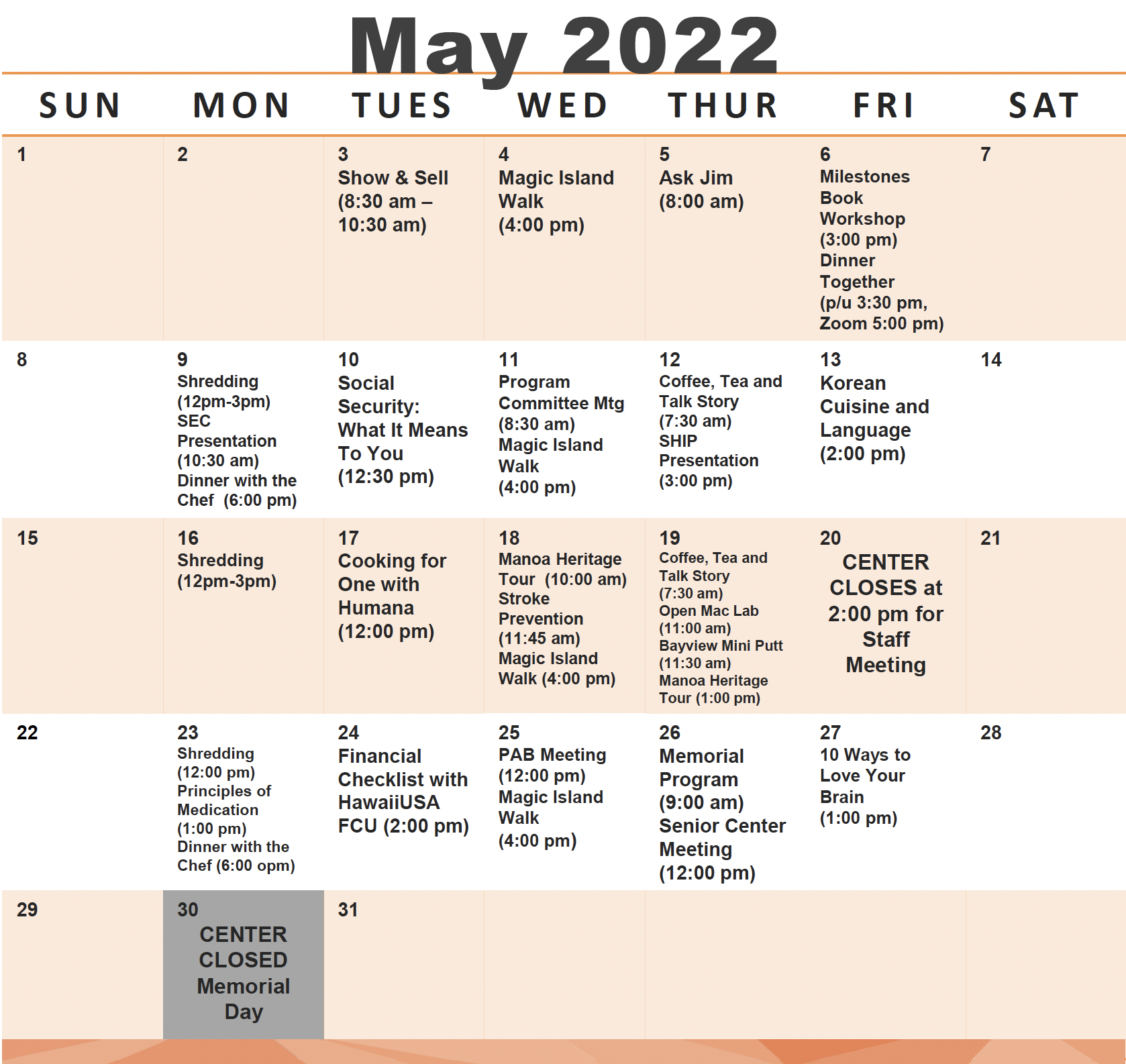 ---
Contact the Lanakila Multi-Purpose Senior Center
1640 Lanakila Avenue
Honolulu, HI 96817

Phone: (808) 847-1322

---