Giving Back to the Neighbor Island Communities

Giving Back to the Neighbor Island Communities
Everyone should be given the opportunity to enjoy the spirit of the holiday season. Mahalo to our community partners on the neighbor islands who helped us share that holiday spirit with others. Here are some of our neighbor island event highlights:
A community food and gift distribution drive was held on December 18 in Kaʻū on Hawaii Island. The drive-thru event, titled "Christmas in Kaʻū: Touched By An Angel," was organized by community leaders, including the Hana Laulima Lahui O Kaʻū, to provide food and children's gifts to area residents. About 225 area households totaling 475 residents were provided food and supplies yesterday.
Catholic Charities Hawaiʻi provided 20-pound bags of rice to each recipient. Area restaurants cooked and distributed free meals, while the Hawaii Police Department and other community groups provided toys and school supplies to the keiki. Families also received a ham, fresh fruit, and a gingerbread house.
Mahalo to community supporters Jonathan Dale Miller Foundation, Punalu'u Bakery, and Coldwell Banker Island Properties, and many others.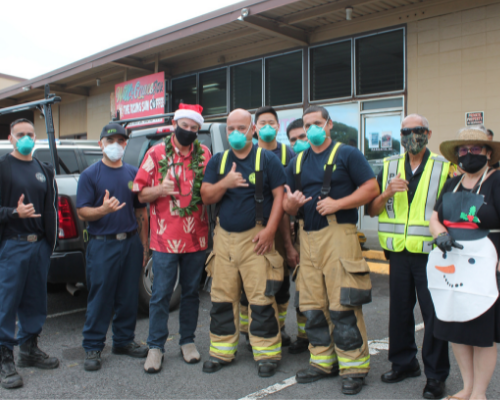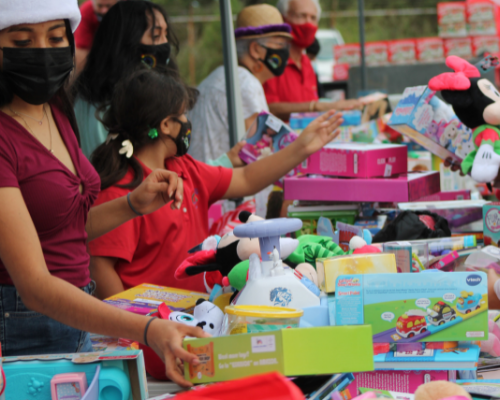 Our annual Shop With a Cop in West Hawaii teamed up at-risk youth with members of the Hawaii County Police Department and other law enforcement personnel at the Kailua-Kona Target store. Over 60 selected keiki received a voucher to select toys and gifts from the store for Christmas.
The Miss Kona Coffee pageant winner, as well as the Miss Teen and Preschool Kona Coffee winners, attended the event, along with CCH volunteers. Mahalo to the non-profit Paying It Forward, The Veterans of Foreign War Women's Auxiliary, and other community groups for their monetary donations to help make this a special day for the kids and their families!
Santa's Workshop on Kauaʻi
CCH's Kauaʻi Community Team held its 13th annual Santa's Workshop event to provide toys and holiday cheer to keiki in need.
This year, we expanded the event with community partners Child and Family Service and New Hope Lihue to also benefit families and seniors. Together, we assisted over 130 individuals at a drive-thru event held at the Kauai Veterans Center, where gifts, bags of rice, and other goodies were distributed.