Become a Therapeutic Foster Family
All children benefit when given a chance to thrive. We at Catholic Charities Hawai'i, Nā 'Ohana Pulāma program are committed to nurturing a child's resilience in therapeutic foster homes. If you have space in your heart and 'ohana for an additional child, we have the training and support to assist in enhancing a child's life.
The Nā 'Ohana Pulāma (NOP) program provides therapeutic foster care for emotionally and behaviorally challenged youth in nurturing family homes. Funded by the Department of Health-Child and Adolescent Mental Health Division, NOP places youth from around the state in homes on O'ahu and Hawai'i Island and uses the trauma-informed Teaching-Family Model. Youth range in ages from 3 to 17; however, the majority are usually pre-teens and teenagers. Many youth we serve have experienced abuse and neglect and need safe, structured, and loving homes to support their growth.
What we offer:
tax free stipend
24/7 program support
respite (time off)
mileage reimbursement
therapy for youth
initial and ongoing training
ʻohana gatherings and recognition
resources and support networks
---
Join us!
Training is one part of the licensing requirements to become a therapeutic foster parent. Interested applicants may choose one of the following training series currently being offered.
---
Training Opportunities
Summer 2022
June 6-July14, 2022
Tuesdays/Thursdays
6:00pm-8:30pm
30 hours total
*Flexible training schedule options also available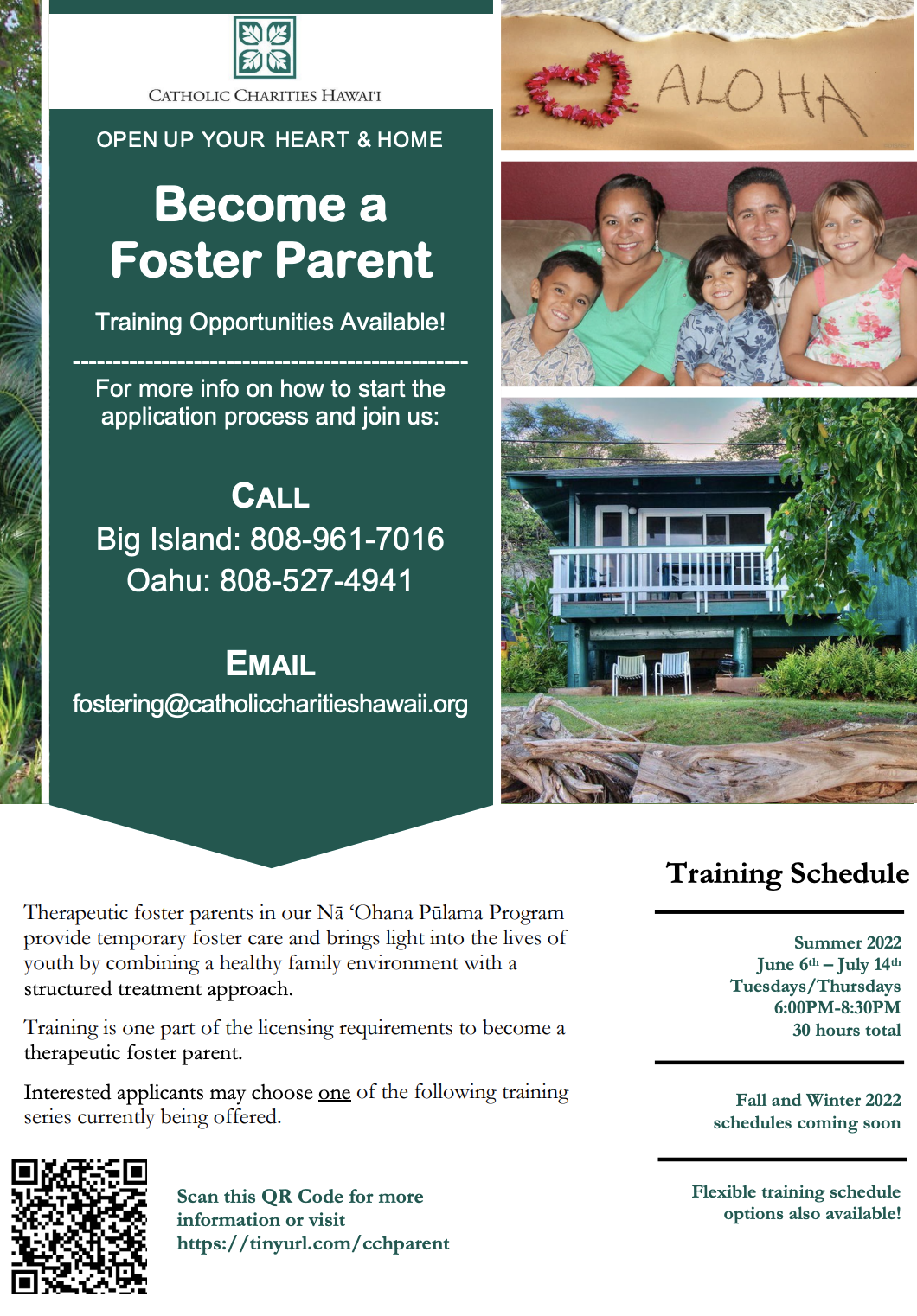 Contact us to learn more about how you can change a child's life.
O'ahu
(808) 527-4941
Hawai'i Island
(808) 961-7016
Email us at fostering@catholiccharitieshawaii.org
Or contact us by filling out the foster care inquiry and our team will get back to you shortly.