A Home that is Ours

Alex will always remember May 24, 2021 – the day he moved into his very first home with his daughter Hulali.
Life certainly hasn't always been full of happy milestones for Alex who spent a year being homeless, struggled with substance abuse and almost lost custody of his only daughter. He was recovering from an unhealthy relationship and had the added challenge of dealing with stabilizing his mental health.
Hulali was born with multiple disabilities, including partial blindness and hearing loss, Down syndrome, and other medical conditions. Because of her physical disabilities, Hulali needs 24/7 support and care. In order to be reunified with his daughter, Alex needed to secure stable housing for himself and his daughter. It was a tall order, but in late 2020, Alex entered the Villages of Maili (VOM) program with the goal of being reunited with his daughter.
VOM, operated by Catholic Charities Hawai'i, offers residents the opportunity to receive stable housing and have access to a number of programs and resources that address five basic needs including housing, food and nutrition, health and wellness, economic self-sufficiency and social capital. It is through meeting these basic needs that the most long-term success has been seen in creating stability and independence for residents.
Shortly after entering the program, Alex and Hulali were reunified. While Child Welfare Services maintained their involvement with the family, Alex continued to work with his team of providers and Hulali attended school. Barrier after barrier was overcome. Alex completed his substance abuse treatment, maintained his sobriety, continued counseling services and secured permanent housing for their family.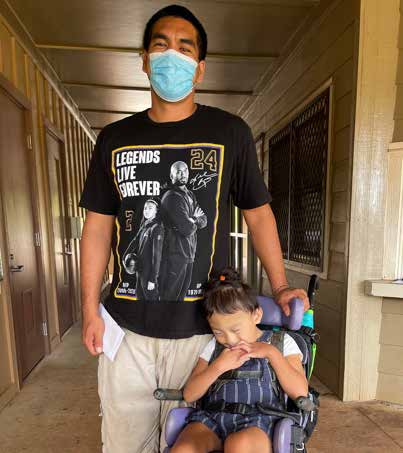 On April 22, 2021, VOM Case Manager, Reka, and Housing Intake Specialist, Carlene, received the email for which everyone was waiting. After months of advocating and meeting, Alex and Hulali received their referral for a Permanent Supportive Housing voucher through the Institute for Human Services Housing First Program. The process to permanent housing did not take long and within weeks, Alex, accompanied by support staff, went to his first house viewing. Alex was extremely excited to sign the first lease he's ever signed in his life! Reka recalls him smiling and saying, "My first house!" as he played with the blinds on the window of his new home.
Located near Hulali's doctors' offices, stores, parks, and the bus line, the community provides a safe and clean environment for the family to thrive. Alex will continue receiving support services as he cares for Hulali and starts on this new life path.